Sunday, January 29th, 2023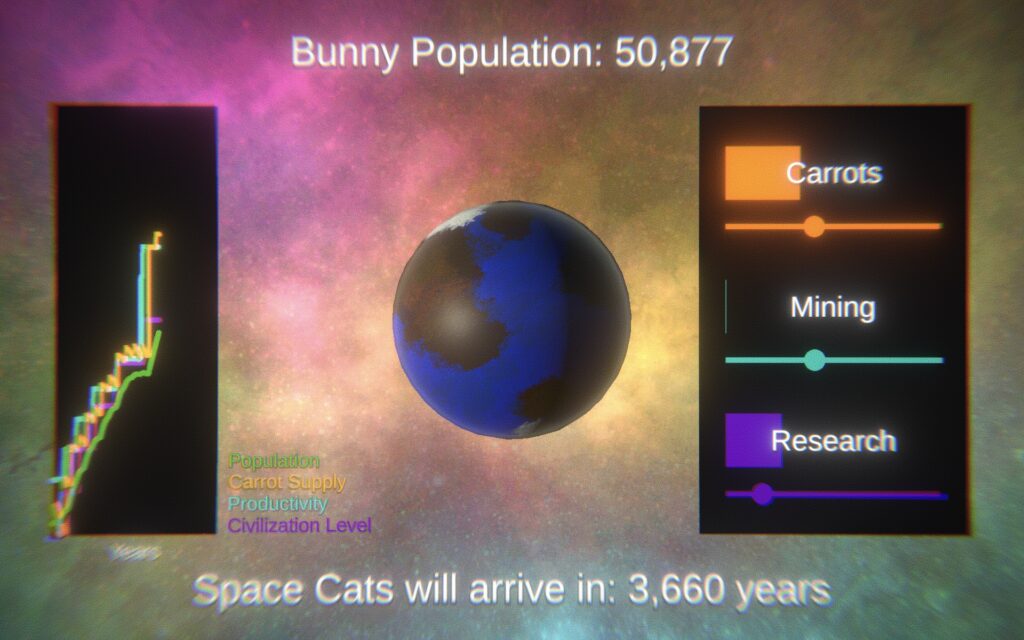 I only do Ludum Dare like once a year but apparently I blog even less frequently than that! So here we are with another blog entry about Ludum Dare 52 and another game I made in 48 hours. The theme was "Harvest" so I made Space Harvest, a game where you guide a growing civilization of bunnies over the course of 10,000 years … to be harvested by the approaching horde of space cats. But there's a secret goal of trying to get the bunnies to the maximum civilization level so they develop space travel and escape the space cats. (In hindsight, I should have made that goal a little more explicit.)
I struggled with coming up with a game for this and I think it was over halfway through the event before I had an idea that could be a game. My basic idea was to make something like an idle clicker where you click a button every so often to increase bunny population. But that didn't seem like enough of a game so I wanted to have a few resources that you manage. That led to sliders that you could adjust to automatically collect resources.
But the big thing I wanted was graphs. I've played a fair number of these kinds of games and it's all about resource management. But it's hard to manage them if you don't know what's going on. Hence, graphs.
In the Overall category, I ended up ranking 174th out of 424 Comp entries (individual people who made their game in 48 hours), so in the top half. I also ranked in the top 20% for Humor and the top 30% for Audio, so that was cool, especially since I only threw together the audio in the last hour or so.
If I do it again, I hope I figure out the game idea faster. It'd also be nice to have real graphics but I'm happy with what I ended up with for this entry. Up until the last couple hours, it was basically just a checkered sphere with a bunch of text.