Mach Dice Updates vs In App Purchase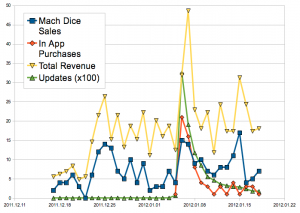 I've heard that approximately 1% of people who download free apps then go on to make in app purchases (IAPs). I was curious to see how this would compare to my 3.0 update to Mach Dice, which is a free update but includes a $0.99 IAP to create custom dice.
I figured that the conversion rate would be quite a bit lower because the IAP is to make custom dice, which is a pretty niche feature. But surprisingly, 1% turned out to be pretty accurate.
Another nice surprise was that the update seemed to have increased sales of some of my other apps as well (there was a big bump from Christmas, but it usually tapers off quickly after that). I'm not entirely sure why that would be but I put in a link to my website in the update (to get more custom dice) so I think that helped.