Wednesday, August 21st, 2013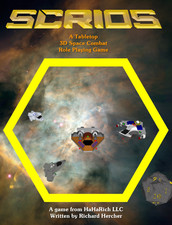 Last year, I got an email from Richard Hercher, a fan of Mach Dice who was working on his own space combat tabletop role playing game. He was doing an eBook version of the rules and he wanted to know if he could link to my app. I said, "Of course!" and asked him to let me know when it was published.
It's out now and the eBook is free on the iBooks app for the iPad (the link to Mach Dice is on page 5). He's even got a kickstarter for a box set. So if you're a fan of RPGs or space combat, check it out!