PocketMe 3D Portraits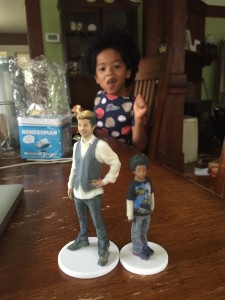 One of the parents of a friend of Dyson's started up a company called PocketMe to do 3D portraits. It's a pretty cool setup. You go to their shop in Berkeley and stand in a cylindrical enclosure surrounded by a bunch of cameras, which all take a picture simultaneously. Then they process it, 3d print it out, and a couple weeks later, you get a little figure of you.
Dyson and I stopped by and did a session and now we have little mini versions of us! They're very cute. If you happen to be in the area, check them out. They take appointments 7 days a week but they also do drop-ins on Saturday from 1-5pm.
They give you digital versions of the models, too! If you click on the models below, you can actually rotate them around.