Addiction Motors in Emeryville, CA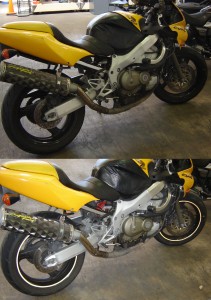 I've had chronic starter problems with my motorcycle for a couple years and the shop I kept on taking it to couldn't figure it out so I tried Addiction Motors and they were fantastic! In addition to:
replacing the starter
cleaning the exterior
power-hosing the brakes
adding cleaner to the gas tank
finding and replacing a missing front fender
… and generally being really cool and explaining all sorts of stuff about my bike, James also added safety reflector lining to my rims that glows when lights hit them.
So not only did they do a great job fixing up my bike, I am also one step closer to owning a Tron lightcycle. If you're in the San Francisco Bay Area and have a motorcycle, I highly recommend them!