Kitchen Remodel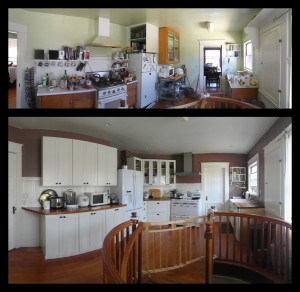 We got our kitchen remodeled a while back by The Wright Construction Company, based in Berkeley. It turned out great, but it took a while get a decent picture because we've got a kid so it's usually a mess.
Anyways, we were very happy with how well it turned out. It's a little hard to see in the picture, but the biggest difference is that they completely took out a couple walls and the unused chimney behind it to create a much bigger corner work area. They also did a bunch of other stuff:
added recessed lighting
assembled and installed cabinets
cut, sanded, finished, and installed new butcher block countertops
installed a stove
installed a refrigerator
installed a dishwasher
painted the walls and ceilings
They also played with Dyson a lot so now he's totally obsessed with tools.