Boom Dice is Free this Weekend!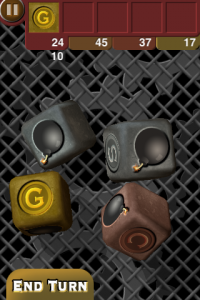 I didn't get 100 votes but it was pretty clear that Boom Dice was a favorite. So I'm making it free this weekend starting now! I posted this announcement in the Touch Arcade sub-forum related to price drops and what not:
As a little experiment, I'm making my game Boom Dice free this entire weekend. It's an explosive little dice game of strategy and luck for up to 4 players.

Wait, did I just say FREE?! Oh my gosh, I think I just did. For a game that's normally $1.99, that's a savings of … 100%! At those prices, is there any reason not to download this game? No, no there is not. Get it now! (Or, wait until the weekend, when it's free.)

If you enjoyed it, please help me out by putting in a nice review or by replying to this thread. And tell your friends. Thanks!
So if you've got an iPhone, download Boom Dice for free now. And help spread the word!
On Monday, I'll report how many free copies went out over the weekend.