iAd Results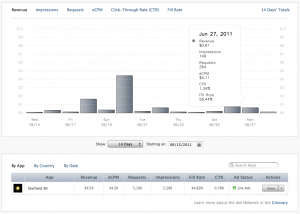 Here's a couple weeks worth of data on my iAd revenue. I only have one app, Starfield 3D, that uses it.
To give you some context, about 20-40 people download my free app per day. Over the past two weeks, I got about $9.59 in ad revenue. In the same time period, I got about $5.60 from people buying the in-app purchase to remove ads.
I don't have a lot of data points, but that seems to imply that ads and in-app purchases are fairly comparable with ads generating a little more. The interesting thing is that someone clicking on an ad generates somewhere around 25 cents of revenue for me. So theoretically, that person could generate me more money than someone who paid for the app if they were like really bored and enjoyed looking at ads.