Old Cell Phone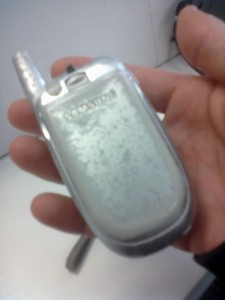 AT&T is apparently going through some sort of network upgrade and sometime next year, my old cell phone will stop working. So I got a text message saying that I can stop by a store to get a new one. What I didn't realize was that I had to give up my old one, which made me a little sad.
See, I got this cell phone when I first moved back to the Bay Area over eight years ago. Eight years! I've had this cell phone for half my marriage! I've known this cell phone longer than I've known most of my co-workers. It's way older than my blog. Heck, it's twice as old as the iPhone itself. This thing's so old it doesn't even have a camera!
A lot of things have changed this year so it's somehow appropriate that I'm losing my old cell phone now. It's like I'm saying goodbye to the things in my old life. Things like my motorcycle, my old glasses, and sleep.