Grilled Cheese Sandwich + Spaghetti Sauce = Pizza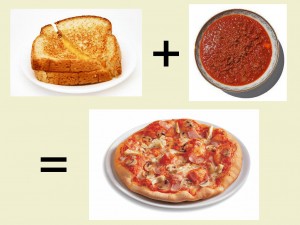 For some inexplicable reason, my wife gets very dubious whenever I'm in the kitchen. But the other day, I was in there and had a culinary epiphany: a pizza is a pastry product topped with cheese and tomato sauce.
A pastry product with cheese? Sounds like grilled cheese sandwich to me. And tomato sauce? I've got a whole jarful of spaghetti sauce where tomato is the first ingredient. Therefore, grilled cheese sandwich + spaghetti sauce = pizza.
Of course, you can't just put spaghetti sauce in a sandwich. It'd be way too messy. (I found that out the hard way…) You have to put the spaghetti sauce in a bowl and use it like a dipping sauce. It also helps to cut the grilled cheese sandwich into sticks for easier dipping, too.