Revenue vs. Ads vs. Visitors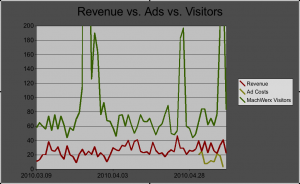 I've used up my $100 credit from Google towards AdWords and at the end of it all, it doesn't look like it made much of a difference, if any.
The chart shows roughly what my revenue has been per day for the last couple months (which also shows why I'm just doing this as a hobby — can't quit the day job on $20-$30 a day!). That's the red line. The green line is how many visits my website gets. And the yellow shows my little ad campaign over the last week or so.
A couple of observations: There's some between revenue and visits as I suspect a number of people buy my apps and visit my website once out of curiosity. (Welcome, new visitors!) Occasionally, my website will get significantly more traffic if something I post gets picked up somewhere (like the Loco Roco Nursery by Joystiq or my Iron Man video by StumbleUpon). But those visitors rarely buy my apps because they just happen to be here for that one thing. The other observation is that ads don't seem to make a difference, at least not the way I was using them. I think people tend to buy apps more based on what their friends suggest or based on reviews and articles.