Memory Usage in UIImagePickerController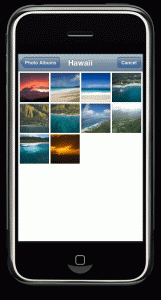 I'm diligently working on app #2, which includes the ability to use photos from your photo library (or the camera if your device has one) and I ran into some memory issues. If you repeatedly create and destroy UIImagePickerController instances, you'll quickly run out of memory (after picking like, seven photos). Fortunately, a little digging around led to the solution. Essentially, it involves keeping one instance around and continually re-using it.
Oh, also, if you're doing animation in your app, be sure to turn off the animation while you access the camera. Otherwise, the camera will be really, really slow; causing you to question whether or not your app idea is even feasible; leading to a looong sleepless night until you finally realize what you were doing wrong. Just sayin'…
I make mistakes so that you don't have to.