Zoolander Recovered!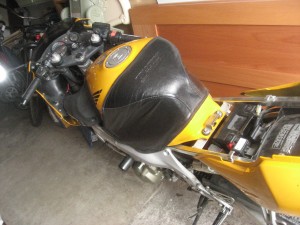 On Friday, someone noticed a suspicious motorcycle in their parking lot, not far from where I live. They called it in and discovered that it matched my stolen bike's info and so the cops called me in to check it out. Sure enough, it was my missing Zoolander, the bike that couldn't make left turns.
Unfortunately, the thieves had already started gutting it and cut the ignition lines so I couldn't start up the engine, which meant I had to push it on foot the six and a half blocks back. And it's going to take a lot of work to get it back to working condition. But it's safe and at home now. Woot!