Dice Locking Implemented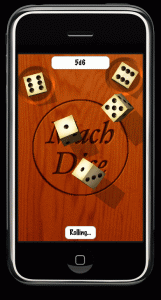 I spent most of the weekend re-connecting everything to work for multiple boards and fixing a bunch of stuff that broke along the way. But I also managed to implement a new feature: dice locking. I can now tap a die to lock or unlock it. In addition, I can drag it around to move it. Also, I've implemented the ability to throw a single die around to re-roll just the one. In the screenshot on the right, you can see the graphics that I've added to indicate that two of the dice are locked.
I still need to implement a few more features (dice colors, history, saving settings between sessions) before I submit the app again for update to the iTunes store, but I'm getting closer.