Reddit Tracking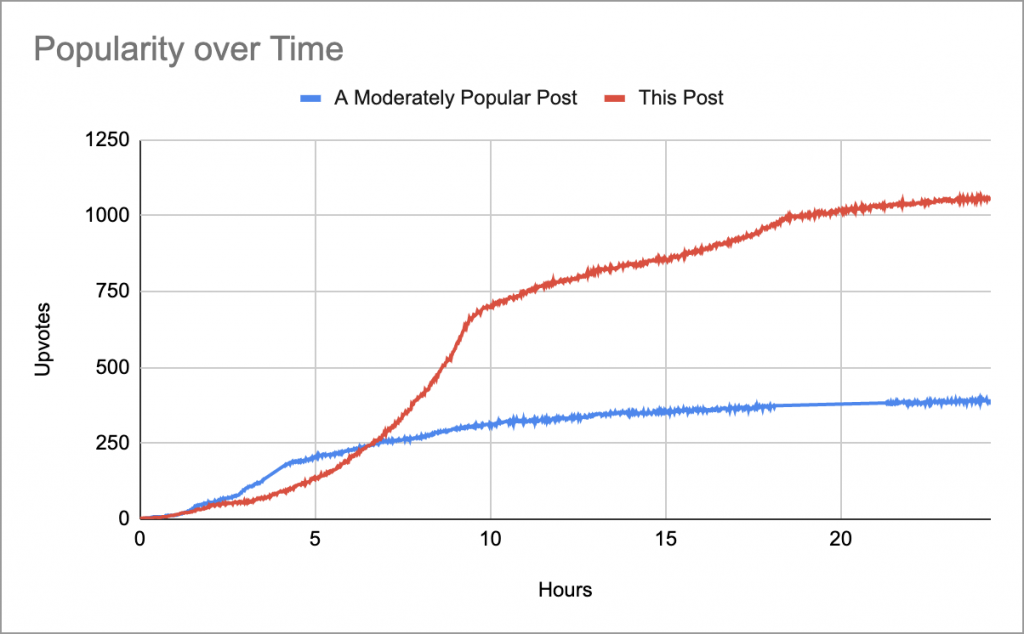 I occasionally post on Reddit and the other day, I posted that admitting you're wrong is a sign of growth, not weakness and it got pretty popular. Then it got deleted because apparently, the mods thought it was common sense. I disagree, but it's their group so fair enough.
So then I thought it would have been interesting to see how the post's popularity changed over time. But I don't think Reddit keeps track of that kind of information. So I wrote a super hacky script to do just that. Then I ran it whenever I made another post and eventually made a post (about the difference between addictive and fun) that was moderately popular. I tracked it over 24 hours (with some breaks because the script crashed a few times; like I said, it's super hacky) and that's the blue graph.
So then I thought it would be kinda neat to post a graph to Reddit that tracked the popularity of the post itself! Unfortunately, images can't be changed once posted. But if you post a link to an article with the image, Reddit extracts the image. So if you update an image in an article, would the image update on the Reddit post? I don't know. But that's what this blog post is attempting to find out.